Face Masks Carteret. Governor Murphy ordered stores across New Jersey to require face covering masks on shoppers. Masks have been extremely hard to purchase. Preorder now and receive face masks the end of May. It seems far away right now, However the shortage will become more severe.  Covid-19 has changed the way we order PPE. No longer can we order Face Masks that will be delivered same day, Or next day. Today we must plan ahead to insure loved ones and employees have safety supplies. Pre-Ordering from a trusted supplier will prevent shortages, While keeping keeping costs downs when scrambling for spot buys from unknown sources. Eliminating price gouging.  Our team has a large order arriving the end of May. Ordering now will eliminate scrambling next month when your inventory runs out. Plan ahead contact us now. Inventory can be picked up or delivered from our 190,000SF warehouse conveniently located in Perth Amboy NJ the end of May 2020. Order now, Its first come – first serve while supply lasts. Email now Sales@LockersUSA.com
Below is our specification sheet.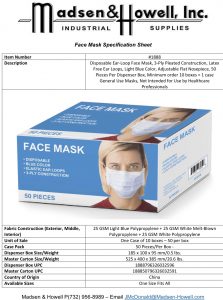 M&H (Est. 1909) is the NYC & NJ largest, independent Industrial supply, PPE and Janitorial Supply companies. Changing buying habits to ordering ahead eliminates wasting time scrambling for alternate sources. Contact us to discuss stocking items exclusively for your team. We will provide quick deliveries based on your release requests. PPE, Janitorial Supplies and Industrial supplies will cost a lot more in months to come if companies don't pre-plan and order in advance.  locking in costs and reducing large shipping costs. Life will be much easier just calling in a order release to be delivered the next day than scrambling the net. Contact us today.  We will help you Increase productivity and reduce costs Our team is available 7 days a week, 7AM to 7PM.Sales@LockerUSA.com
Secure your inventory with welded wire security cages. Also stocked in New Jersey. Free layouts, Professional Installations, Free delivery.
Face Masks Carteret, Face Masks NJ, Face Masks New Jersey, Face Masks Carteret NJ 07708.
Face Masks delivered to Carteret, Avenel, Linden, Rahway, New Jersey.