DEA Cannabis Cages NJ. Proudly serving New Jersey since 1909. Recreational and Medical Cannabis Cages stocked in our 109,000sf NJ facility. Take advantage of our Code Compliant Complimentary Layouts and DEA Compliance. Our goal is to have your cage pass DEA inspection the first visit. Call now Phone (917) 701-5795.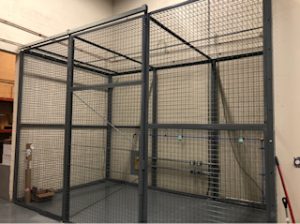 Cannabis Cages stocked in NJ. Free consultation, layouts and quote. P(917) 701-5795. Fast quotes and Drawings, professional Installations. DEA cages in stock that comply to US Drug Enforcement Administration  requirements of Schedule 111 and 1V controlled substances as detailed in Title 21. CFR sections 1301.72.1301.76 physical security requirements for controlled substances.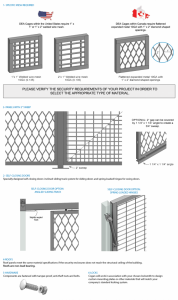 DEA Cages within the United States requires 1″ x 1″ or 2″ x 1″ welded wire mesh grids. DEA Cage panels are installed with 2″ sweeps and attached to posts 2″ x 2″ x 1/4″ thick to the height needed with either 4″ x 4″ or 2″ x 6″ welded foot plates. Self closing doors can be provided with hydraulic door closers,  for hinged doors and slide doors. Roof panels provided with the same material specified for the DEA compliant cage.
DEA Cannabis Compliant Cages stocked in NJ, Our Techs takes the stress out of selecting the right compliant cage.  Provide complimentary layouts either on line or onsite daily. Feel free to use the form in the link above or contact us for fast assistance. Sales@LockersUSA.com or P(917) -701-5795. LockersUSA.com also stocks security cages, machine guarding safety cages, Server Cages, Tenant Storage Cages, Colocation cages in durable rust resistant galvanized and powder coat Medium gloss black, gray, blue, red and safety yellow. Lock options include welded hasps for padlocks, Cylinder locks, Card Swipe, Push button, key fob, bio metric or we can provide interchangeable cores to match the existing systems.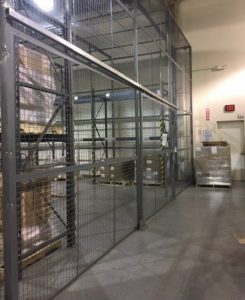 Our facility also stocks Pallet Rack, Work stations, Employee Lockers. Our welded wire lockers are ideal for providing secure, visual storage for employees and valuables.
Contact is today our 109,000 SF New Jersey Facility is open Monday through Friday 6AM to 7PM and Saturdays 6AM – 4PM. P(917) 701-5795 or  Sales@LockersUSA.com
DEA Cages Cannabis NJ, DEA Pharmaceutical Cage NJ, Cannabis New Jersey, Welded Wire Lockers NJ.