Steel Shelving Long Island City. Pallet Rack, Bulk Rack and Steel Shelving stocked in Long Island City. LockersUSA provides quality NEW shelving and rack in 8 free standard colors. Our inventory includes industry standard sizes with weight capacities starting at 450lbs per shelving and up.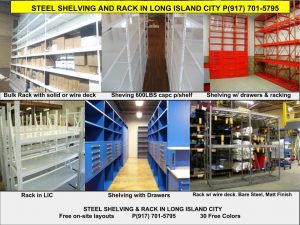 Our Install supervisors provide on site layouts that will is space efficient and within code. Our shelving and rack is designed to allow users to grow as your business expands, Each shelving unit can have drawers and or doors added and we can increase heights when needed. When buying shelving go with one of our attractive colors, Its the same cost and will brighten up your space. We stock roll form pallet rack and structural pallet. When your looking for rack you can save money by considering bulk rack instead of pallet rack. Bulk Rack offers the same benefits as pallet rack with heights and widths, But its used for hand loading product instead of loading with a forklift. LockersUSA delivers and installs daily in Queens, NYC, Brooklyn, Bronx, Staten Island and NJ. Contact us now for immediate assistance. Sales@LockersUSA.com or P(917)701-5795.
Steel Shelving Long Island City 11101, Metal Shelving Long Island City, Pallet Rack Long Island City 11101, Steel Shelving Adams St  Brooklyn 11201.