Server Cages Lakewood NJ. Proudly serving NJ since 1909.  IT Server Cages, Data Room and Co location Cages Stocked locally. Complimentary Code Compliant Layouts, Lowest cost. Server Cages Lakewood NJ will enclose any size server, Cost effectively and code compliant. Email now for fast assistance Sales@LockersUSA.com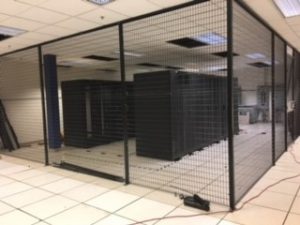 Server Cages Lakewood NJ provides quick Deliveries and installation, Lowest overall cost. Lifetime Warranty.  Server Cages are strongly recommended to enclose your network servers. Information regarding payroll, medical, credit cards, employees must be secured on-site. Sever cages provide secure, visible enclosures, Limiting access to only authorized employees. Sales@LockersUSA.com or P(917) 701-5795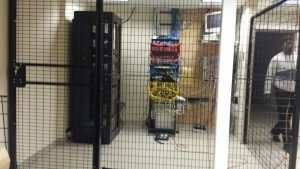 Stocked in Lakewood NJ . Free On Site Layouts. Some Server – Data or Colo Cages have greater needs. Out techs can also install the cage above the drop ceiling and below the access floors.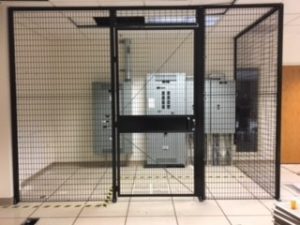 Hinged or sliding doors are available in 3', 4′, 6′ and 8′ feet widths. Door frames are made with 2″ x 2″ x 1/4″ inch thick posts and welded to 2″ x 6″ inches foot plates to secure anchoring. Our install team use anti theft hardware and anchors for added security. For added security, data server and colocation cages are also available in 1″ x 1″ #4-ga all welded wire grid openings.
Server Cages Lakewood NJ Lock options:
LockersUSA provides a wide variety of locking systems for data center server and colocation cages based on your specific requirements ranging from steel encased cylinder locks, card swipe, push button, or biometric locks. Interior push bars, Hydraulic door closers and mag locks can also be installed on your doors.
Server Cages Lakewood NJ, IT Server Cages NJ, Data Room Cages New Jersey, , Server Network cages NJ.  Colocation Cages Lakewood NJ, Telecom Cages NJ, Server Cages, Data Room Cages, Co location Cages, Telecom Cages, IT Network Cages delivered daily to Lakewood, Toms River, Manchester, Asbury Park, Brick Twp, Wall Twp, Lakehurst, Ocean Twp, Robbinsville, Trenton, Eatontown, Middletown, Holmdel, all of New Jersey.