Welded Wire Partition Cages NYC. Established 1909.  LockersUSA.com stocks welded wire partitions for security cages and creating perimeter barriers. Stocked in New York City for quick delivery and installation at the lowest overall cost. Choose from steel framed welded wire in 8 or 10ga, Woven wire or galvanized 4 or 8 ga welded wire. Stocked in New York City. P(917) 701-5795.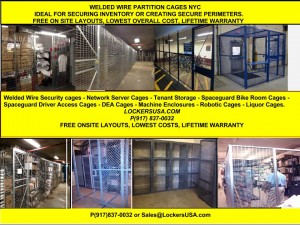 LockersUSA of Manhattan stocks hinged and sliding doors with steel encased cylinder locks. Also available with panic – push bars, Magnetic lock, FOB Keyless entry, Push button, Card Swipe. Programmable locks can be set for up to 200 users.   Stocked in Powder coat medium glass black, gray and rust resistant Galvanized steel. Available in most heights or with ceilings up to 48′ high. To save money if you can use your existing  back wall and side wall you will then be able to need less caging, Reducing the cost.  Shelving and Racks are also stocked at LockersUSA to create space saving storage within your cage.  Contact us today for immediate assistance. Our office is open six days a week from 7AM to 6PM, Monday – Saturday. Phone (917)701-5795 or email us Sales@LockersUSA.com
We also provide a form to help you create your cage, Just fill it our and return. We will provide a layout and quick pricing,  information at no charge. Security Cage Quote Form
Welded Wire Partition Cages NYC, Wire Partitions NYC, Security Cages NYC, Woven Wire Cages NYC, Welded Wire Security Cages NYC. Welded wire lockers NYC, dispatcher lockers NYC, Welded wire security cages NYC, Tenant Storage Cages NYC, Tenant Storage Lockers NYC, Folding Guard Tenant Storage Cages NYC.