Wall Mounted Storage Lockers NYC. Generates Excellent income.  Wall Mounted security cages are ideal to utilize unused wall space in garages, Warehouses, Retail anywhere secure storage and Loss prevention is needed. Manufactured with framed 8 or 10GA welded wire. Each unit comes with sliding doors with welded hasps for padlocks. Stocked locally. LockersUSA provides complimentary on site layouts and also ships nationwide from 5 regional warehouses. Stocked in durable galvanized or 5 powder coat finishes.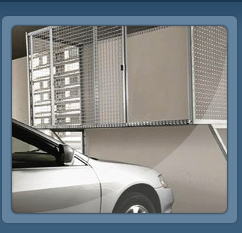 Ideal for Tenant Storage space where the basement may have been maxed out with standard tenant storage cages. Many new buildings we have installed our wall mount bike brackets in and or Tenant Storage Cages have parking garages that can double as tenant storage space areas without getting in the way of car parking.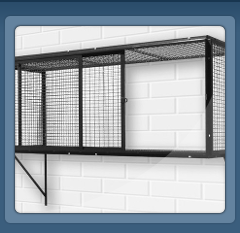 Wall Mount Tenant Storage Cages Generate Revenue. Like the standard tenant storage lockers the we install in the 5 Boro's, Wall Mount Tenant Storage Lockers generate good revenue. units 8'w x  2′, 3′  or 4'deep x 4′ or 4'high rent our from $100 to $160.00 per wall mount cage. If the parking garage installs 30 wall mount storage cages  renting out for $125.00 per month, The units will generate $45,000.00 in revenue per year and pay for themselves in 7-8 months from the monthly rentals.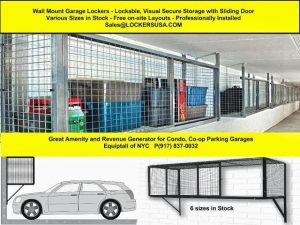 LockersUSA a stocking fabricator of tenant storage cages, security cages, DEA Cages, Safety Fence, wire partitions  and wall mount bike brackets. Our offices are open Monday to Friday 7AM to 5PM and Saturdays from 8AM to 1PM contact us today for immediate assistance. Sales@LockersUSA.com or P(917) 837-0032.
Wall Mount Storage Lockers NYC, Wall Mount Tenant Storage Cages NYC, Wall Mount Cages NYC, Tenant Storage Cages NYC, Tenant Storage Cages Brooklyn, Tenant Storage Cages Queens NY. Bulk Storage Lockers, Wall mount welded wire cages NYC, Parking Garage NYC,  Wall Mount Cabinets NYC, Wall Mount cages delivered daily to NYC, Brooklyn, Queens NY, Bronx, New Jersey, Bronx, Westchester, Long Island.