Tenant Storage Lockers Brooklyn 11249. Developers and Property Managers enjoy the features and benefits of LockersUSA's Tenant Storage Lockers. Lowest overall cost, Generates excellent revenue. Quick delivery (stocked locally), Best Warranty, Looks great enhances the basement. Call or Text now for assistance,. P(917) 701-5795.
And equally important our Tenant Storage Lockers generate revenue quickly. The return on Investment is 8 months or less. LockersUSA tenant storage cages can pay for themselves in 8 months or less with low rental rates paid by residents for the convenience of on site storage. Depending on the size rental rates for tenant storage in Williamsburg ranges from $65.00 to $175.00 per month. A 40 unit building renting tenant storage cages out at an average of just $100.00 per month can generate $48,000 per year in maintenance free revenue.

The best news is our customers receive double the product they would have with our lower costs, warranty and our galvanized steel all welded wire cages are literally twice as thick compared to all others. Providing additional secure visual storage to their residents.
Each of our tenant storage cages have full height anti theft lock bars, welded hasps for padlocks. Today most units are attached directly to the rooms walls and floors. Tops, Floors, Shelves and backs can also be included. Tenant storage cages industry wide are sold as starter units and add on units. Starter units have two sides and the door, add on units have 1 door and 1 side. Each row starts with a starter unit and the rest of the row is filled with add on units as shown below.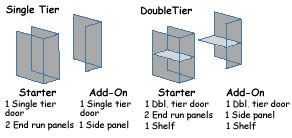 Tenant Storage Cages Brooklyn NY, Tenant Storage Lockers Brooklyn 11249, Tenant Storage Cages Brooklyn 11249.