Tenant Storage Cages West New York. Complimentary on site layouts,  In stock locally, Generates Good Revenue, Lowest overall cost, Lifetime Warranty.   Built to last with framed 4ga welded wire, With full height anti – theft lock bars and welded hasps for padlocks. Stocked in durable galvanized steel finish and 5 powder coat colors in Single Tier – Walk in type and 2 Tier – Stacked in 12 standard sizes.  As a resident on site tenant storage cages makes life easier, Having access when needed, Secure and safe within the building.  LockersUSA of NJ provides complimentary layouts and quick quotes daily.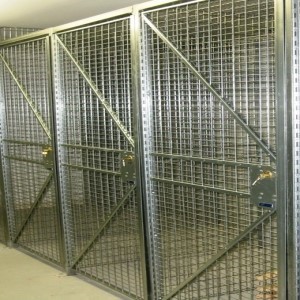 Our space saving, Complimentary code compliant layouts will  maximize the storage room.  Backed with the industries only lifetime warranty and lowest overall cost, Our tenant storage cages are stocked locally eliminating high freight charges.  Tenant Storage Cages in West New York also generates good revenue. Developers, Condo boards and Landlords typically charge a monthly rental fee for on site tenant storage ranging from $80.00 to $175.00 per month. A residential building with 30 tenant storage cages renting our at $100.00 per month average will generate $36,000.00 in yearly revenue. The ROI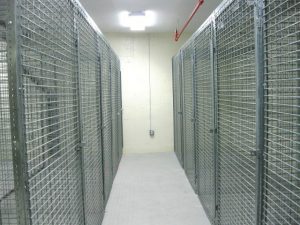 averages 7-8 months. Tenant Storage cage doors are stocked 3′ wide and 4'wide in hinged. Heights start at 6′ high and can go to the ceiling or up to 90″ high with or without tops. Normally tenant storage cages are attached directly to the tenant storage room walls and floors, Back are added to units not attached to a wall. Floors, Tops and Shelves can be added cost effectively and are also stocked locally.  Our tenant storage cages are manufactured with 4ga welded wire which is double the thickness of 10ga, Providing added strength for less.  Contact us today for immediate assistance. Sales@LockersUSA.com or Phone (917) 837-0032.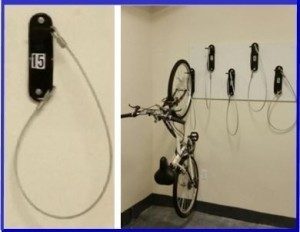 Our New Jersey facility also stocks Wall Mount Bike Brackets designed to allow bikes to be spaced just 12″ apart when space is tight. Extremely easy to use. Each #42488 wall mount bike brackets comes with a 5′ long cushion coated cable that can be wrapped around the bike frame, both rims and secured with the bike owners lock. Our team also provides complimentary bike room layouts.
Tenant Storage Cages West New York, Tenant Storage Lockers West New York, Tenant Storage Cages West New York NJ, Wall Mount Bike Brackets West New York,. Tenant Storage cages delivered daily to West New York, Union City, Cliffside Park, Weehawken, North Bergen,Palisades Park, Edgewater, Fort Lee, Bayonne, Little Ferry, Hoboken, Secaucus, Hoboken, Harrison, Kearny, all of NJ