Tenant Storage Cages Newark. Generate Revenue with tenant storage cages in Newark. Tenant storage cages in residential buildings have become a revenue generating amenity. Low cost investment that pays for itself in less than 8-9 months.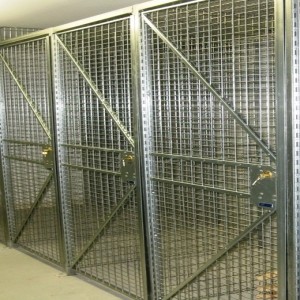 Typically in Newark Tenant Storage cages rent out from $70.00 to $150.00 per month. If the building has 30 tenant storage cages renting out at the lower rate of $70.00 per month the tenant storage room will generate over $10,000.00 per year in maintenance free revenue.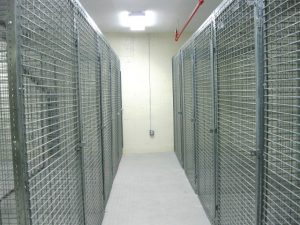 LockersUSA provides complimentary layouts 6 days a week.
LockersUSA.com stocks Tenant Storage Cages, Security Cages and Bike Storage Systems in the Ironbound district. Our team provides complimentary on site layouts six days a week.  LockersUSA stocks 2 industry standard types of tenant storage units. Single Tier – Walkin type and Double Tier – Stacked. The size of the tenant storage space and number of units tend to dictate the types needed for your space. Often LockersUSA provides a mix of both when requested based on the number of bedrooms in each unit.

When sourcing tenant storage cages ask the welded wire gage. 4ga welded wire is twice the thickness of 10ga. Available at the same price. 4 ga provides additional secure, visual storage.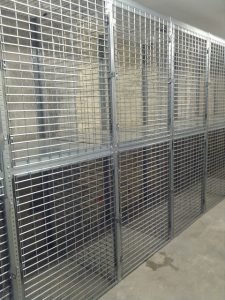 Two tier tenant storage cages offer spacious storage in the smallest footprint. Stocked in Newark 4'w x 4'd x 45″H (90″ high overall) also stocked in 3'w x 3'd x 45″H (90″ High overall).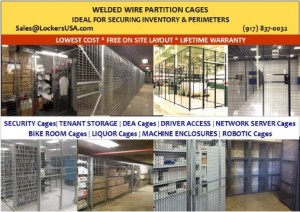 LockersUSA also stocks Security Cages, DEA Pharmaceutical Cages, Data Room and Colocation cages, Equipment Cages, Safety & Robotic caging. Free Layouts. Sales@LockersUSA.com
Tenant Storage Cages Newark, Daily deliveries Tenant Storage Cages by zip code 07105, 07114, 07017, 07102, 07103, 07104, 07106, 07107, 07108, 07111, 07112, 07101. Tenant Storage cages deliveries by Neighborhood Ironbound, North Ward, South Ward, Central Ward, East Ward, West Ward.