Pallet Rack East Brunswick. Proudly serving New Jersey since 1909.  Pallet Racking in stock. Daily deliveries in New Jersey, Complimentary Layouts, Quick delivery, Lowest overall cost, Professional Installations. Call now, when your working we're working P(917) 701-5795.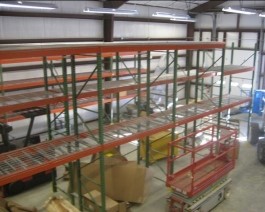 LockersUSA stocks new pallet racking locally. Not used here's why. Insurers may not be keen on used pallet rack, Check before you buy. You may not be able to hand pick the rack wanted. Returns are rare. Buying new includes the best warranty in the business (including labor) and lower cost.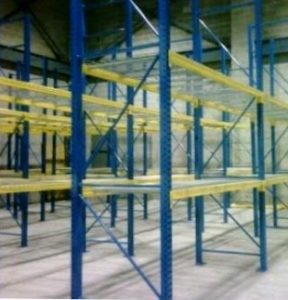 Pallet Rack East Brunswick provides complimentary on site layouts, professional installations and lifetime warranties not only on our rack and shelving but our installations too!. Save money if your hand loading your inventory ask for Bulk Rack. Bulk Rack (shown below) is less than half the cost of pallet rack and holds up to 4500lbs per level. Pallet Rack East Brunswick is open now. P(917) 701-5795.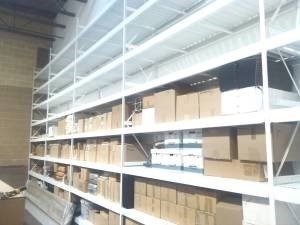 Bulk Rack is ideal for storing inventory. Bulk rack is used when hand loading boxes. Free layout assistance. Sales@LockersUSA.com
LockersUSA also stocks metal shelving in six standard colors. weight capacities 650 pounds and more when needed. Steel Shelving can be quick shipped in either open with back and side cross brackets or with closed backs or sides. The shelves are fully adjustable, clip type no nuts or bolts. Our six install crews work in New Jersey and NY daily.  Contact us today for immediate assistance. Our complimentary on site layout will help you save space, costs and make sure your space is code compliant. If you need repairs or to reconfigure you existing rack or shelving gives us a call. Our team is experienced, insured. Contact us now our office is open 6AM – 6PM, Monday – Sat. Sundays until Noon. P(917)701-5795 or email us Sales@LockersUSA.com
Pallet Rack East Brunswick, Pallet Racking East Brunswick, Pallet Racking NJ 08816, Pallet Racking wire decking East Brunswick NJ 08816, Pallet Rack Installations New Jersey, Pallet Rack Repairs New Jersey, Pallet Rack Cage Doors East Brunswick. Pallet Rack delivered daily to East Brunswick, New Brunswick, South Brunswick, South River, Spotswood, Old Bridge, Monmouth Junctions, Parlin, South Amboy, Perth Amboy, all of New Jersey.