Metal Lockers New York. Ideal for Schools, Medical, Staff Lockers, Law Enforcement.  Stocked assembled and unassembled. Proudly serving New York City since 1909. Complimentary layouts. Professional Installations. As we hopefully return to work and school next month our Lockers Techs are ready to have your lockers delivered and installed. Stocked in Numerous standard sizes.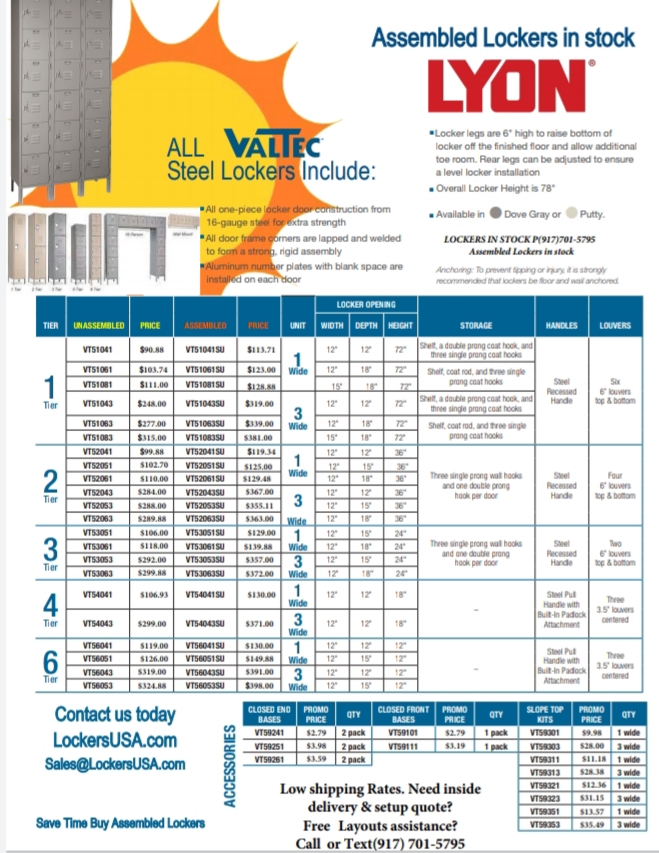 Our 109,000SF facility also stocks ADA Lockers and Locker room benches. One ADA locker is required for every four to five ordered. To save money for multiple lockers we offer 3 wide frames of lockers in Single tier – full height, Double tier – stacked, Three Tier and Six Tier Box lockers.  Locker locks available in padlock combination and built in combination locks. Locks come with control charts that make it easy to assign lockers. Each lock has 5 combination lock numbers that can be changed when employees leave. Master keys also provided to management. The control chart lists the locker plate number, Employee name and, Lock serial number and combination numbers for each lock. Tags are provide for each locker to hand out detailing the locker number and combination number in English and Spanish to hand out to locker users.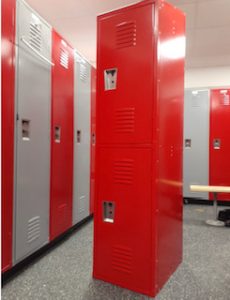 Locker accessories also stocked. Closed in leg bases – Lockers have 6″ open legs. Front locker bases and side locker bases enclose the legs preventing added work by maintenance staff attempting to clean under the lockers. Slope tops are also provided upon request.  Buying assembled lockers saves time. The lockers just need to be taken out of the boxes and anchored to the walls and floors to prevent tipping and injuries. Our Locker Techs or your Staff should also bolt the lockers together. We provide the number plates and hardware.
Locker Benches stocked from 3′ wide to 12′ wide in laminate butcher block or all steel. The bases are the same powder coat color as the lockers.
Metal Lockers delivered daily to New York City, Brooklyn, Queens NY, Staten Island, Bronx.