Metal Lockers Middletown NJ. Complimentary Layouts, Quick Ship, Lowest Overall Cost, Lifetime Warranty. Metal Lockers stocked in Middletown NJ.  Ideal for Work, Schools, Medical, Law Enforcement, Gyms, Hotels and Restaurants.  LockersUSA's Middletown facility stocks Single Tier, Double Tier – Stacked and Box lockers in 5 free colors. Built to last with a lifetime warranty. Priced low based on LockersUSA's high volume purchases. Lockers can be delivered assembled or knocked down.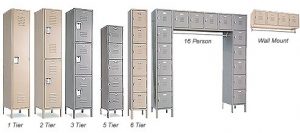 Metal Lockers Middletown NJ can be delivered with flat tops or sloping tops, closed in leg bases or Z Bases.  1 Tier, 2 Tier and 3 Tier Lockers come with coat hooks and recessed handles for padlocks, combination padlocks, built in combination locks or Digital Locks.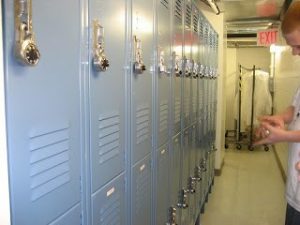 Combination locks provide good management features. Master keys and Control Charts are provided. Listed on the control chart is the locker number, A space to add a name, Then the current combination number along with 4 additional combination numbers for future use  as lockers are reassigned. Changing the combination number is easy, Instructions are provided with the control charts. On site is given on changing the combination number by our locker techs upon delivery.
Metal Lockers Middletown NJ Locker Techs can assist based on the size of the room, Number of lockers needed and what will be stored in the lockers. Don't buy a Mercedes when a Chevy will do. The best deal on lockers is the industries standard width, 12″ wide. We stock up to 36″ wide, But in most cases 12″ is ideal. The depth of the locker depends on available space. 18″ deep lockers has enough room for back packs etch. The type of locker, 1 tier, 2 tier, etc depends once again on space available and items stored inside the locker. Single Tier lockers come with a top shelf and cost hooks, Full length coats and uniforms can be hung neatly. 2 Tier lockers are normally 36″ high (stacked) Shorter coats can be hung and cost hooks are also provided.  Our on site complimentary layout includes suggested locker types, code requirements including ADA guidelines.
Protect Middletown NJ Locker users from  illness with Antimicrobial Metal Lockers. Antimicrobial finish provides continuous protection against the touch transfer of bacteria on the locker surface, as well as colonization of mold and bacteria in locker corners, seams and on hidden surfaces behind and under the locker.  Lockers with DuPont's Antimicrobial powder coat finish is guaranteed to last 20 years. It cannot be scrubbed or washed off. Providing decades of anti-bacteria resistant coverage.
LockersUSA.com provides complimentary onsite layouts, additional suggestions on preventing the spread of bacterial on lockers by ordering lockers without ventilation holes and antimicrobial handles. We also stock Restroom Faucets, ADA rails, Towel dispensers, Sinks, Counters and restroom partitions stalls, Toilet seats, Door knobs and flushometers with Antimicrobial finish. Contact us today for additional information and or complimentary layout.
LockersUSA's Middletown facility provides complimentary on site layouts six days a week. Contact us today for immediate assistance. Sales@LockersUSA.com or P(917) 701-5795.
Metal Lockers Middletown NJ, Steel Lockers Middletown NJ, Metal Lockers in Middletown NJ, Locker Installation service Middletown NJ, Metal Lockers Middletown, ADA Lockers MIddletown, School Lockers Middletown NJ, Antimicrobial lockers Middletown NJ,  Metal Lockers delivered daily to Middletown NJ, Lincroft, Middletown, Red Bank, Tinton Falls, Eatontown, Keansburg, Rumson, Hazlet, Holmdel.