Employee Lockers Brooklyn. Metal Lockers  and Locker Benches stocked in Brooklyn for Employees, Schools, Hotels, Medical, Gyms and Restaurants in New York City. LockersUSA stocks lockers . Our metal lockers are backed with a lifetime warranty on the lockers and installation. Lockers are normally stocked in Tan, Gray and Blue with 10 additional free colors to choose from. Our Locker Team provides complimentary on site layouts and Professional Installations in the 5 boroughs.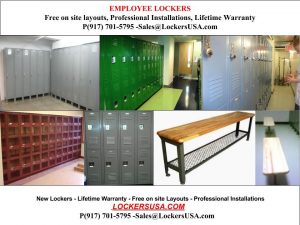 Our inventory includes Metal/Steel Lockers, Wood Lockers, Plastic, Lockers, Stainless Steel Lockers, ADA Lockers and Antimicrobial Lockers with open or closed in legs, closed bases, sloping or flat tops, combination locks.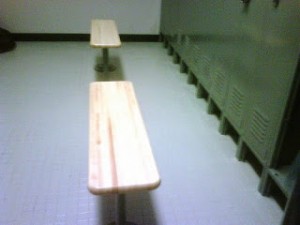 Our inventory of locks includes Builtin combinations we supply them with control charts to help manage the locker and ID users. Each lock comes with 5 different combination locks. As employees leave the combination number can be easily changed. We also give management master keys. Our Locker Team will review with management how o change combination numbers and manage the locks while on site. We can also provide locks that will match your existing key control system.  padlocks keyed different with master keys are also in stock.  Our installers can work around your schedule when needed we have day, eves and weekend shifts working daily. Contact us today for immediate assistance Phone (917)701-5795 or email us Sales@LockersUSA.com
Employee Lockers Brooklyn. Metal Lockers Brooklyn, Steel Lockers Brooklyn, Wood Lockers Brooklyn, Employee Lockers Brooklyn NY,
Employee lockers delivered daily in Brooklyn by zip code Bath Beach 11214 ,Bay Ridge 11209 ,Bedford Stuyvesant 11216,Bensonhurst 11214, Bergen Beach 11234,Beverley Square East 11226,Beverley Square West 11226,Boerum Hill 11201, 11217 ,Borough Park 11219, 11204,Brighton Beach 11235,
Broadway Junction 11233,Brooklyn Heights 11201,Brownsville11212,Bushwick 11221,Canarsie 11236,Carroll Gardens11231,
Caton Park11218,City Line11207,Clinton Hill 11205,Cobble Hill 11201,Coney Island11224,Crown Heights 11225, 11213,
Crown Heights North 11213,Cypress Hills 11208,Ditmas Park 11226, Ditmas Park West 11226, Downtown 11201, DUMBO 11201,Dyker Heights 11228,East Flatbush11203,East New York11207, 11208,East Williamsburg 11206,Farragut 11210,
Fiske Terrace 11230,Flatbush 11226,Flatlands 11236,Fort Greene 11205, Fort Hamilton11209, Fulton Ferry11201,
Georgetown11230,Gerritsen Beach 11229,Gowanus 11231 ,Gravesend11233,Greenpoint 11222,Greenwood Heights 11232
Highland Park11207,Homecrest 11239,Kensington 11218,Mapleton 11204,Madison11229,Manhattan Beach 11234,
Manhattan Terrace 11230,Marine Park 11234,Midwood 11230,Midwood Park 11210,Mill Basin 11234, Mill Island 11234,
Navy Yard 11205,New Lots 11236,North Side 11211, Northeast Flatbush 11212, Ocean Hill 11233, Ocean Parkway 11230,
Paerdegat Basin 11236,Park Slope 11215, 11217,Plum Beach 11235, Prospect Lefferts Gardens 11225, Prospect Heights 11217, 11238, Prospect Park South 11217,Red Hook 11231,Remsen Village 11236,Rugby 11203,Sea Gate 11224,
Sheepshead Bay 11235,South Midwood 11210,South Side11210,South Park Slope11215, Spring Creek 11239,
Stable Brooklyn 11218,Starrett City 11239 Stuyvesant Heights 11216,Sunset Park 11220,Vinegar Hill 11201,Weeksville 11233
West Midwood 11230,Williamsburg 11206, 11211, 11249, Windsor Terrace 11218,Wingate 11203.